Leather got back in 2013 and stayed as a trend this season as well. It had a reputation of "biker look" , but now it's among the hottest materials for fall.
As a part of outfit it grabs a lot of attention so avoid paring them with anything that can distract vision from them. When choosing the color, the black one is the best choice.
Playing with the other colors can be very risky.
See the best ways of combining leather with the rest of items.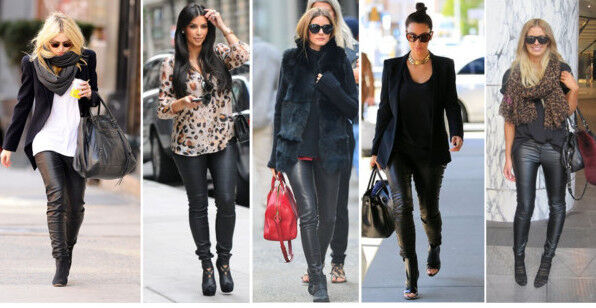 Leather pants in black mat is a big wanted item.
Making an outfit with this piece can be done in many ways.
Combine your leather pants with white shirt, you can even add a black, white or nude blazer over it, you are guaranteed to look both – trendy and elegant.
Scarves and big bags are a great essentials.
During the winter, fur or even coats are acceptable with leather.
Going with a shirt or a sweater that has a longer back, is good to cover the parts behind, since leather pants can't fit very good as a pair of jeans.

Choose the right footwear

The safest way is to wear black footwear. For a casual look go for a stylish pair of ankle boot. Open toe of booties and shoes looks fine with leather pants. For a more dressier look try a nice pair of heels with your outfit, studded ones are another great options to go with.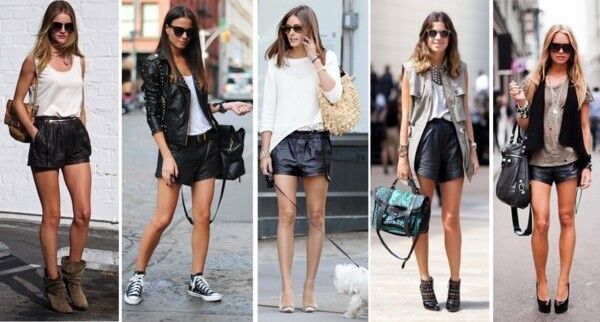 A graphic shirt is definitely a good choice for the days when you want to look casual. Matching it with sneakers and converses is what you also need.
Going for the edgy and rock vibe is easy to pull off. Pair your leather shorts with longer vest, gold or silver chains, sometimes with studded booties too. Rock the look with the dark sunglasses.
For more of a casual, but feminine look, choose the simple plain sweater, One side tucked in the shorts is always a good idea.
Leather on leather with, shorts and jacket with it, can look good. But don't get overboard with the details.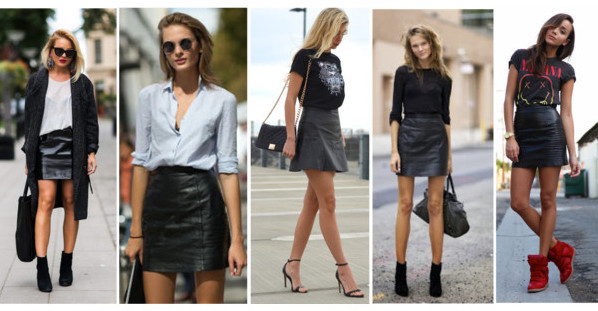 They come in all lengths and types, but the ones above the knee are most wearable.
During the summer time, skirts are not recommended since it's too hot, but celebrities and fashionistas around the world use them during any season.

Combining long cardigans with the skirt is perfect for the fall. It gives you an extra layer to keep you warm, but still makes you stylish enough. Match it with the booties. Also, add the tights to it if you're afraid of getting cold.
Sneakers with the leather skirt can be tricky. Keep it casual by adding a graphic t shirt or plain top.
Denim and the leather are a great match together. If you're going for this kind of outfit, combine it with the most simple heels.

Which leather item do you like the most? How do you like to style it?